HIGH SCHOOLS / ROME BRAVES / LOCAL COLLEGES / COMMUNITY EVENTS
Georgia High School Association State Track & Field Championships at Berry College's Clark Track and Dickey Field at Valhalla Stadium.
 Results from the competition, highlighting the performance of area student athletes, appear above and below. For more 
at this link
 or click
GHSA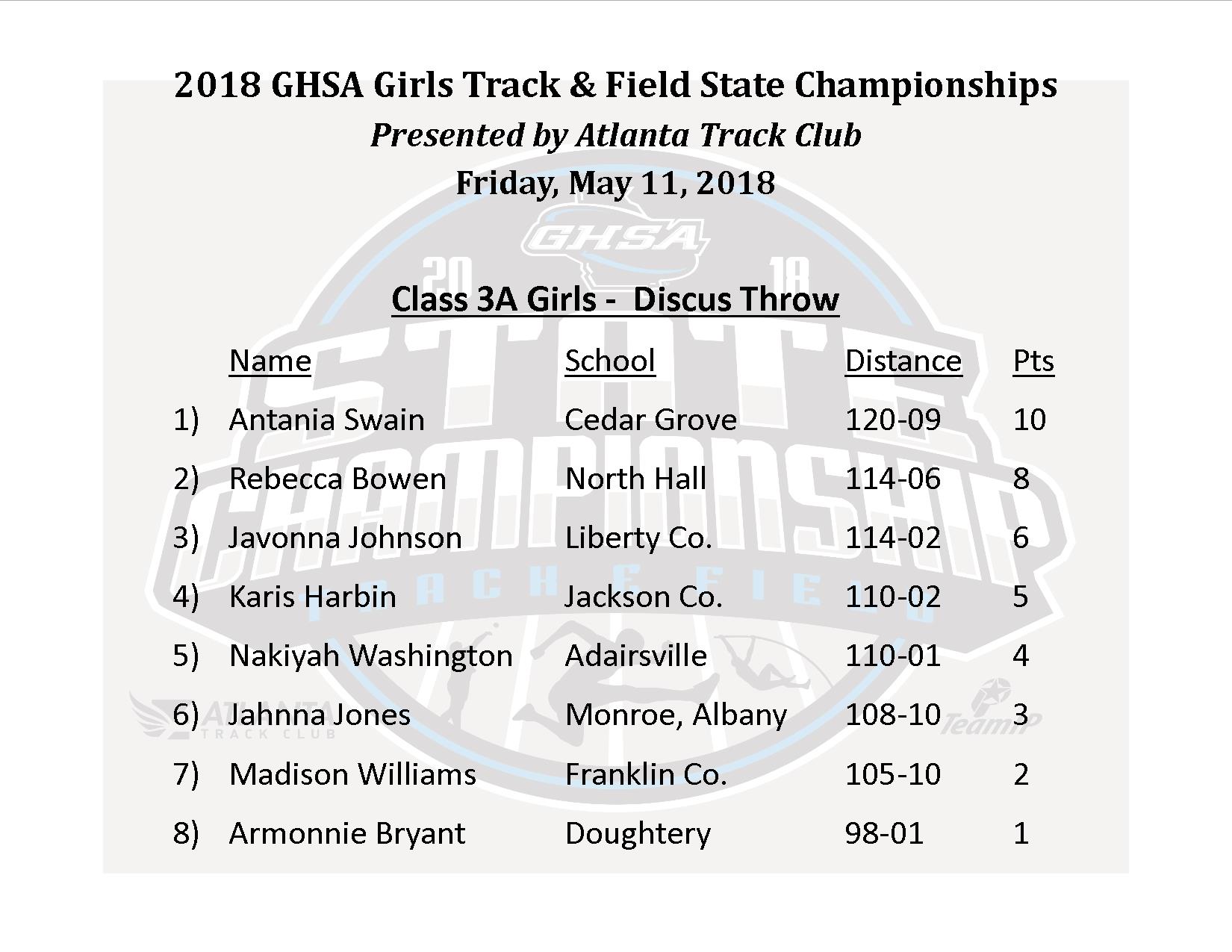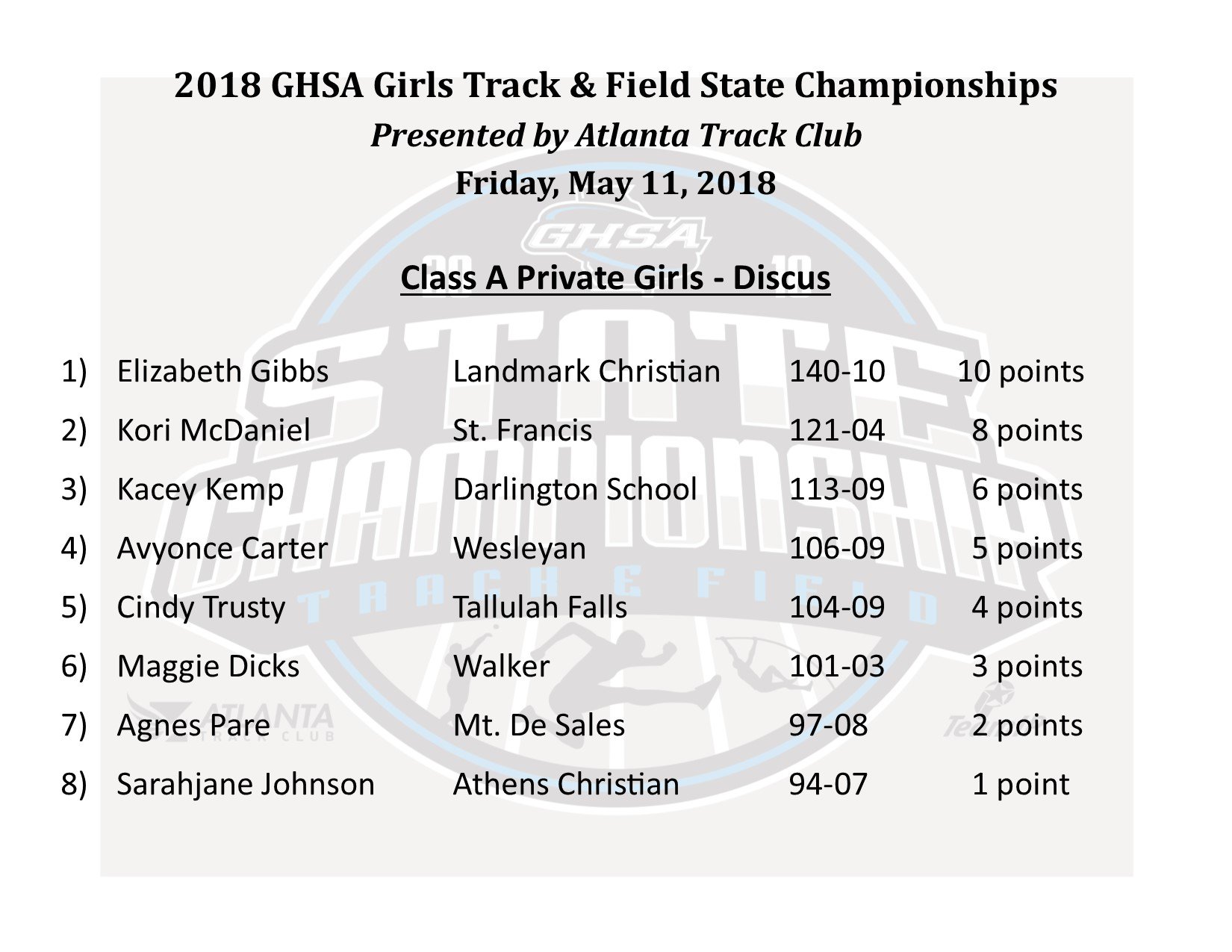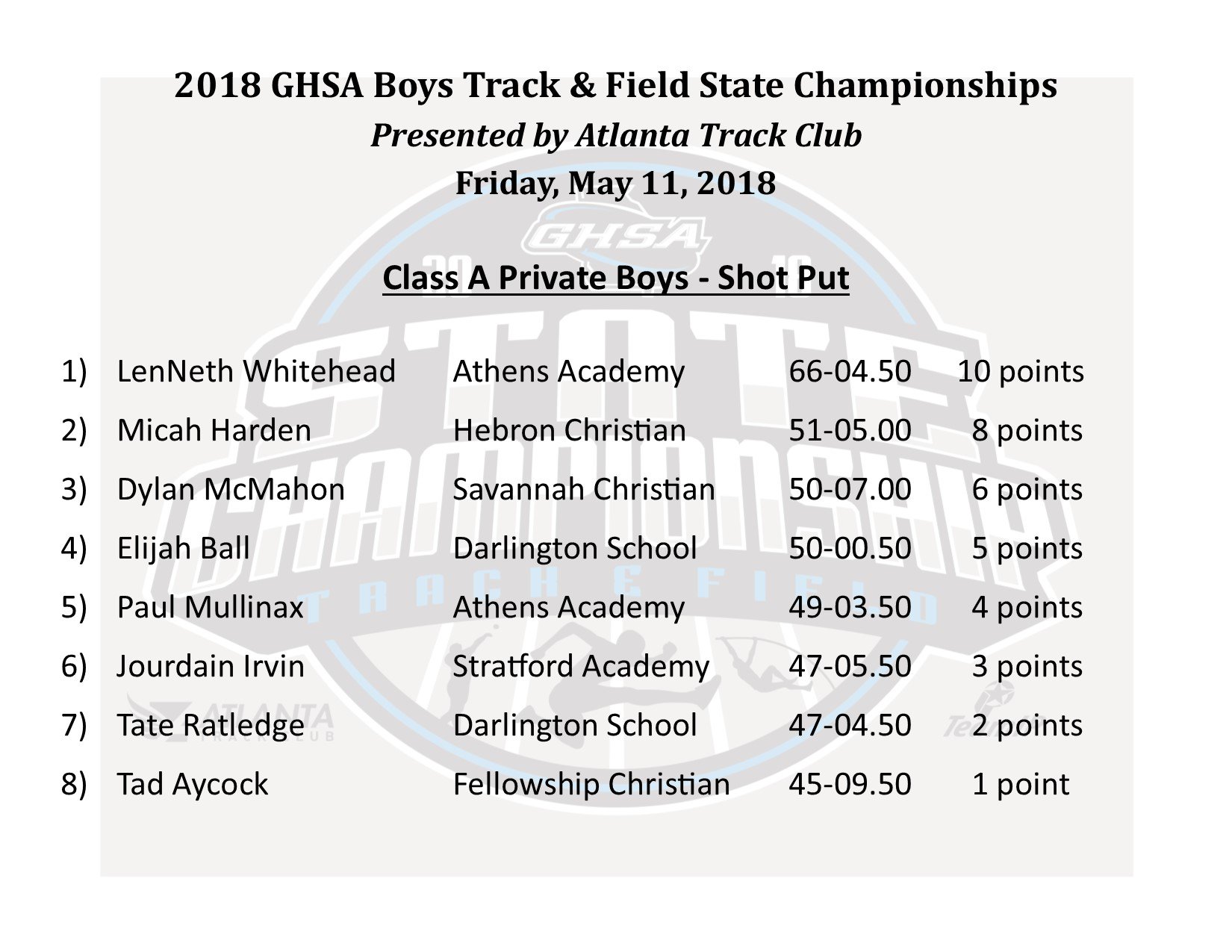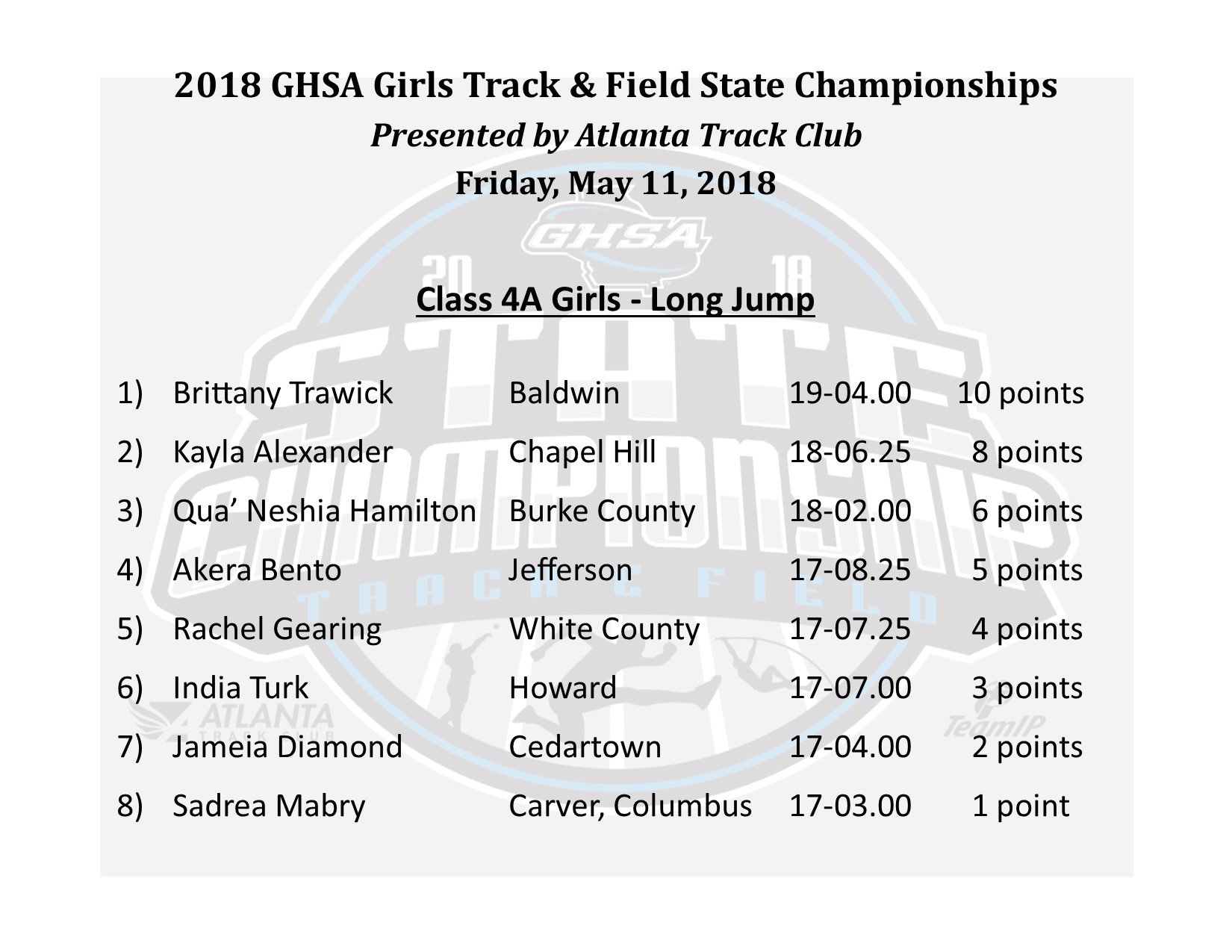 ---
HIGH SCHOOL TENNIS CHAMPIONSHIPS
Schedule  (courtesy of John McClellan)
Girls, 10 a.m., 40 courts.
Class 7A Walton v. Lambert
Class 6A Northview v. Cambridge
Class 5A Kell v. Chamblee
Class 4A North Oconee v. Columbus
Class 3A Westminster v. Lovett
Class 2A Bleckley County v. Berrien
Class A Public Taylor County v. Trion
Class A Private Brookstone v. Walker
Boys, 2 p.m., 40 courts.
Class 7A South Forsyth v. Walton
Class 6A Johns Creek v. Dunwoody
Class 5A Buford v. Flowery Branch
Class 4A North Oconee v. Blessed Trinity
Class 3A Pace Academy/Lovett winner v. Westminster
Class 2A Bleckley County v. Benedictine
Class A Public Irwin County v. Telfair County
Class A Private Stratford Academy v. Paideia
---
GHSA tournament matches
Class 3A: Calhoun falls 1-0 to Westminster in the state championship.
---
HIGH SCHOOL BASEBALL/GHSA Baseball Tournament:
Class 4A: Cartersville at home starting Tuesday in semifinals playing winner Heritage-Catoosa. Double-header begins at 4 p.m.; third game, if needed, is at 5 p.m. Wednesday.
The 4A and 6A high school baseball championships will be decided on the home field of the Rome Braves, State Mutual Stadium (4A on May 21; 6A on May 22).
---
BASEBALL
Rome Braves top Augusta, 6-2. Media release: The Augusta GreenJackets, South Atlantic League affiliate of San Francisco Giants, lost 6-2 on Friday night to the Rome Braves. The game started promising as the GreenJackets took an early 1-0 lead in the bottom of the first inning. The run came off the bat of Jacob Gonzalez who knocked in Logan Baldwin from third. The lead would hold until the fourth inning, when the game started to get away from the GreenJackets. The Braves got hot at the plate and started compiling hits. This would lead to a big inning for the Braves as they put up five runs. The GreenJackets attempted to make a comeback as Jacob Gonzalez once again hit home Logan Baldwin in the fifth inning. Throughout the rest of the game, the GreenJackets would put pressure on the Braves pitching, but not enough to start a comeback. The GreenJackets lost the series by losing three of four games to the Braves. The loss puts them in a tie with Rome for the lead in the Southern Division of the South Atlantic League.
Next: At Hickory Saturday 6 p.m., Sunday 3 p.m., Monday 6 p.m and Tuesday, 10:30 a.m. Off Wednesday.
Roster moves: None.
Mills Fitzner's photo gallery for the 2018 season and before.
SPRING FOOTBALL
Armuchee High's JC Burkett signs with Berry College for football.
Tuesday: Spring football for the Model Blue Devils, 6 p.m. Admission: Soap powder.
May 18: Rome vs. North Paulding, in the Wolves' spring game at Berry College's Valhalla Stadium, 7 p.m.
.
Berry Softball takes down Lynchburg 9-1 in five innings to advance in the winners bracket of the NCAA Tournament. The Vikings play today at 11 a.m. against Maryville.
The Berry College women's golf team closed competition at the 2018 NCAA Division III Women's Golf Championships today, earning a ninth place finish. Golf
---
COMMUNITY
F&P is having its annual charity 5K on June 16 and this year, all of the proceeds this year will benefit Harbor House. "This is a great opportunity to support us and the community. You can use this link to register: https://bit.ly/2JFEdsu. Also, you can print the waiver form and take it to Garner and Glover Company, F&P Main Plant or Cycle Therapy. F&P Georgia Mfg
---