HIGH SCHOOLS / ROME BRAVES / LOCAL COLLEGES / COMMUNITY EVENTS
HIGH SCHOOL BASEBALL
Class 4A: Cartersville defeated Spalding 2-0 and 11-1 in 5 innings. Will be at home starting Tuesday in semifinals.
Rome Braves top Augusta 6-3 in game one of Wednesday evening's double header.
SPRING FOOTBALL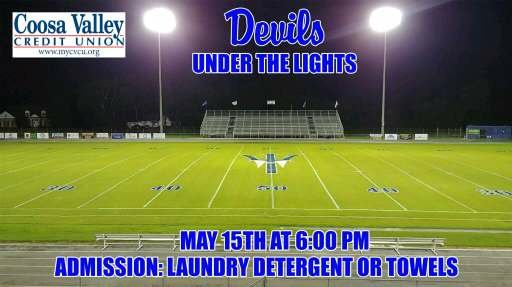 Spring football for the Model Blue Devils next Tuesday.
Friday: Coosa will be playing Jacksonville (Ala.) High and LaFayette in in a football scrimmage. "We will begin the fun at 5 p.m. There will be food trucks – BBQ, Mexican, Cagle's Southern Eats, Spartan Smoothies, shaved ice and pies. Come eat, take pictures at the photo booth, enjoy music (5:30 p.m., the live music from Hunter & Chase will start) and watch some football." Tailgating begins at 5 p.m.
May 18: Rome vs. East Paulding, Barron Stadium.
BASEBALL
Rome Braves were off Tuesday; at Augusta for double-header beginning this afternoon at 5:05 p.m. 
Next:  Augusta Thursday and Friday at 7:05 p.m.; at Hickory Sunday through May 15.
Roster moves: The Rome Braves announce the following roster moves:  LHP Kyle Muller has been transferred to the Florida Fire Frogs. OF Jose Bermudez has been transferred to Danville
Mills Fitzner's photo gallery for the 2018 season and before.
---
UPDATED SOCCER
The YMCA's Arsenal Rome Select and Academy teams are winding down their regular season games and beginning the tournament season. The B11 and G9 Academy teams won their divisions in the Chattanooga Scenic City Cup. The Select teams earned a 3-5-1 record to bring their season record 26-24-6.
The G14-C East went 1-2 over this past weekend. On Friday night, the team travelled to 5th place Oconee Football Club, losing 4-0. Rily Howe and Sophie Gaither each recorded 4 saves in goal. On Saturday, Arsenal fell to 1st place Athens United 3-0. Deyvis Reader recorded 8 saves in goal. On Sunday, Arsenal topped 8th place Ambush White 3-1 at Grizzard Park. After allowing an early goal, Arsenal battled back to tie the game at 1-1 when Joey Kunczewski scored an unassisted goal at the 20-minute mark. Arsenal's offense hit the back of the net 2 more times in the 2nd half with Ashley Marin scoring on an assist from Reader before Reader netted the final goal off an assist from Carlee Brock. Reader had 3 saves in goal while Gaither added 4.
The weekend's matches brings Arsenal's record to 4-3-2 and leaves them in 6th place in Athena C East. Arsenal finishes the season this weekend with a game at 10th place Concorde Fire on Friday, facing 7th place Lady Chiefs Premiere at Grizzard on Saturday before traveling to play 4th place DDYSC Wolves Elite on Sunday. Kunczewski and Malone Christen are tied for 3rd in scoring in the league with 4 goals each.
The G14-D went 1-1 this weekend. They won 2-0 over MAYS Strikers with goals by Isabelle Phillips and Emily Bartleson then lost 2-0 against PPA GA Storm. Their 2-4-1 record has them in 8th place. This weekend they play 5th place Cherokee Impact Premier and 10th place Roswell Lady Chiefs Blue.
The B13 II West defeated Concorde Fire West Black by a score of 3-1 at home in their final game of the Classic II West Spring season. Gavyn Williams earned an assist, providing a cross to the net, where Bleu Winters scored with a header. Maddox Pyle scored a goal, with an assist from Cesar Perez. Williams scored a goal, with an assist from Winters. Arsenal had 23 shots on goal. Goalkeeper Will Payne had 3 saves. With 9 wins and 2 losses, the team finished the season in 2nd place in Classic II West. Gavyn Williams is leading the league in scoring with 14 goals. The team will travel to the Georgia Soccer Complex on May 20th, to play a Georgia State Cup Tournament play-in game against a tough Classic I Concorde Fire Central Elite.
The B14-III West lost to 4th place Oconee Red 4-0. They host Brookhaven FC this weekend to finish the season. Victor Valencia is tied for 2nd in scoring with 8 goals. Their 5-4-1 record has them in 5th place.
The B15 Red tied 4th place Chelsea Premier 2-2. Their 5-3-1 record has them in 3rd place. They finish their season this weekend hosting UFA's Norcross Spring.
The B15 IV Blue lost to NASA Royal 8-2 to finish their season with a 1-8 season.
The G9 won the 8 team Bronze division of the Scenic City Cup this weekend by beating Chattanooga FC Select North 10-1 with goals from Avagail Barksdale (3), Lilliana Tapia (2), Daniella Sanchez, Isabela Sanchez (2), Lyla Patterson, and Emily Gentry. Saturday afternoon they beat the Murfreesboro SC Lady Strikers Gray 9-0 with goals from Gentry (4), Isabella (3), Millie Hopper, Bella Echanique (2, Lorena Lom assist on both). Tapia, Georgia Kate Barksdale, Daniella, and Avagail. Sunday they started out beating the Signal Mountain Storm 4-1 with goals from Avagail, Tapia, and Patterson. That afternoon they beat the Cherokee Impact SC Premier 3-1 in the final. It was a very tight game, 0-0 at the half. Cherokee scored first and the girls fought back to tie it up with a goal from Avagail Barksdale. The second came off a PK for a handball in the box converted by Tapia. The nail in the coffin came later with an awesome cross from Tapia to Avagail.
Top row left to right – Coach Stefano Echanique, Annie Watterson, Avagail Barksdale, Georgia Kate Barksdale, Emily Gentry, Brylee Salmon, Lyla Patterson, Lorena Lom, Coach Chase Watterson. Bottom row – Millie Hopper, Daniella Sanchez, Bella Echanique, Liliana Tapia, Isabella Sanchez.
The B11 won the 6 team Silver division of the Scenic City Cup this weekend by beating Southern Tennessee SC from Pulaski TN 4-1 with 4 goals from Giovani Echanique. Then they trounced Nashville FC White 12-1 with the following goal scorers: Tripp Watterson (2, Gio assist), Zeke Donner (2), Marley Price, (Watterson assist), Klae Theakston, Brallam Cux, Angel Tapia, Dimitri Castro, George Loveless, and Kosta Pateritsas. On Sunday they won their bracket by beating the Gallatin TN SC Rangers 6-4. They got goals from Theakston (Gio assist), Tapia, Gabby Sandoval, and a hat trick from Echanique. That afternoon they beat TUSC Blue from Hendersonville TN 3-0 in the final. Goal scorers were Echanique (assist Ethan Thoem), Theakston, and Pateritsas.
From left to right – George Loveless, Giovani Echanique, Tripp Watterson, Gabriel Sandoval, Ethan Thoem, Klae Theakston, Kosta Pateritsas, Brallam Cux, Angel Tapia, Dimitri Castro , Marley Price, Zeke Donner, Evans Drinkard, Coach Richard Vardy
The B9 played in the Atlanta Fire United Academy Elite Cup top level Gold Division and posted an 0-3 record losing to SSA Chelsea Blue Premier 6-0, Lanier SA 3-1, and Atlanta Fire Bronze 3-1. The first two were the finalists.
Compiled by Roy Dickinson
---
Georgia High School Association State Track & Field Championships at  Berry College's Clark Track and Dickey Field at Valhalla Stadium, Thursday-Saturday. Berry will host the A Private, 4A and 7A divisions, welcoming some of the top athletes in the state. Click HERE for the full meet schedule. Live results are available throughout the weekend at this link.
Schedule  (courtesy of John McClellan)
Girls
Class 7A Walton v. Lambert
Class 6A Northview v. Cambridge
Class 5A Kell v. Chamblee
Class 4A North Oconee v. Columbus
Class 3A Westminster v. Lovett
Class 2A Bleckley County v. Berrien
Class A Public Taylor County v. Trion
Class A Private Brookstone v. Walker
Boys
Class 7A South Forsyth v. Walton
Class 6A Johns Creek v. Dunwoody
Class 5A Buford v. Flowery Branch
Class 4A North Oconee v. Blessed Trinity
Class 3A Pace Academy/Lovett winner v. Westminster
Class 2A Bleckley County v. Benedictine
Class A Public Irwin County v. Telfair County
Class A Private Stratford Academy v. Paideia
All eight girls finals start on 40 courts at the Rome Tennis Center at 10 a.m. Saturday. All eight boys finals start on 40 courts at 2 p.m. Saturday.
Girls: Class A Public: Trion advances to championship against Taylor County on Saturday.
---
HIGH SCHOOL BASEBALL/GHSA Baseball Tournament:
Class 4A: Cartersville will host Spalding today in the quarterfinals.
GHSA tournament matches
Boys: Class 2A: Model falls to Putnam County, 3-2.
Class 3A: Calhoun beats Windsor Forest, 2-1, will play Westminster Friday at 7:30 p.m. at McEachern for the state championship.
---
COLLEGES
The Berry College softball team will face the Hornets of Lynchburg College at Emory University to open their fourth straight NCAA Tournament appearance. Competition will begin on Friday, May 11 in the double-elimination regional in Atlanta.  Game times are still to be determined.
---
COMMUNITY
F&P is having its annual charity 5K on June 16 and this year, all of the proceeds this year will benefit Harbor House. "This is a great opportunity to support us and the community. You can use this link to register: https://bit.ly/2JFEdsu. Also, you can print the waiver form and take it to Garner and Glover Company, F&P Main Plant or Cycle Therapy. F&P Georgia Mfg
---