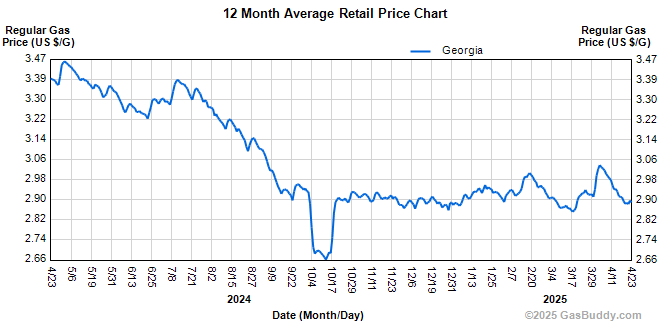 Georgia gas prices rose 3.5 cents last week. Sunday's state average of $2.48 is 18 cents more than a month ago, and 30 cents more than this time last year. Georgia has the 20th-lowest state average in the nation. A local check of prices Monday morning on Georgia Gas Prices showed:
Rome: Prices ranging from $2.39 to $2.47.
Cartersville: $2.38 to $2.69.
Cedartown: $2.41 to $2.46.
Calhoun: $2.35 to $2.59.
Summerville: $2.38 to $2.49.
From AAA: Last week, stock market gasoline prices reached levels not seen since Hurricane Harvey passed over the Gulf Coast, causing refinery outages and higher gas prices. Based on current wholesale levels, pump prices could soon return to the $2.60s in Florida, $2.50s in Georgia, and the high $2.40s in Tennessee; unless market prices retreat this week.
Average Gas Price in January
2014
2015
2016
2017
2018
National
$3.30
$2.11
$1.90
$2.33
$2.52
Florida
$3.38
$2.18
$1.92
$2.37
$2.49
Georgia
$3.22
$2.07
$1.82
$2.23
$2.41
Tennessee
$3.11
$1.95
$1.69
$2.12
$2.33
HOW OIL PUSHES PRICES AT THE PUMP
The price of oil climbed another $3 last week, to set a new multi-year high. Friday's close of $66.14 per barrel is the highest daily settlement since December 2014. Oil prices are up $15/b since October, largely due to a tightening global oil market. Ongoing declines in U.S. inventories and a weakening U.S. dollar led to last week's increase. U.S. crude stocks fell for a record 10th-consecutive week, reaching the lowest level since February 2015, according to the EIA.
High oil prices are preventing gas prices from taking their seasonal winter retreat. Oil prices have always played a significant role in what motorists pay at the pump. In fact, about half the price of gasoline is steered by the cost of crude. Back in 2014, gas prices plunged from $3.69 down to $2 and below by the end of January 2015. During that time, oil prices tanked, falling from $106/b to $45/b. That was a result of the oil market becoming oversupplied with crude, as U.S. production reached its highest levels in decades. Now, the adverse is happening. Although U.S. production levels are strong, global oil inventories are tightening, largely due to OPEC's agreement to reduce output by 1.8 million barrels per day.
"There appears to be a recipe for even higher gas prices brewing, and the rising price of oil is just one of the key ingredients," said Mark Jenkins, spokesman, AAA – The Auto Club Group. "During the next few months, refineries will randomly conduct maintenance on their equipment and switch to a more-expensive-to-produce summer blend gasoline. During their downtime, these refineries reduce the amount of gasoline they put out into the market. Historically, that has caused gas prices to rise 30-75 cents, as a result. It's unclear exactly how the market will absorb these shifting fundamentals, but motorists may want to be ready. One remaining beacon of hope is that domestic oil production would ramp up sooner than later, and end the upward momentum on oil prices."