UPDATED
A look at the 2017 College and Career Ready Performance Index scores for all area high schools:
FLOYD (systemwide: 77.7)
Armuchee: 96.7
Coosa: 73.8
Model: 87.8
Pepperell: 81.9
Rome city: 74.9 (systemwide: 71.7)
BARTOW (systemwide: 71.6)
Adairsville: 68.8
Cass: 71.7
Woodland: 76.1
Cartersville city: 82.9 (systemwide: 79.6)
GORDON (systemwide: 77.4)
Gordon Central: 78.1
Sonoraville: 80.0
Calhoun city: 76.8 (systemwide: 73.0)
POLK (systemwide: 74.9)
Cedartown: 85.0
Rockmart: 66.3
CHATTOOGA
Chattooga 70.2 (systemwide: 66.6)
Trion city: 92.1 (systemwide: 87.2)
Media release: Floyd County Schools ranked above the state average on the 2017 College and Career Ready Performance Index scores released on Nov. 2 by the Georgia Department of Education. Floyd scores exceeded last year's averages on elementary, middle and high school levels. All public schools in Georgia are assessed utilizing the CCRPI, a comprehensive school improvement, accountability, and communication platform that promotes college and career readiness for students. (Statewide report).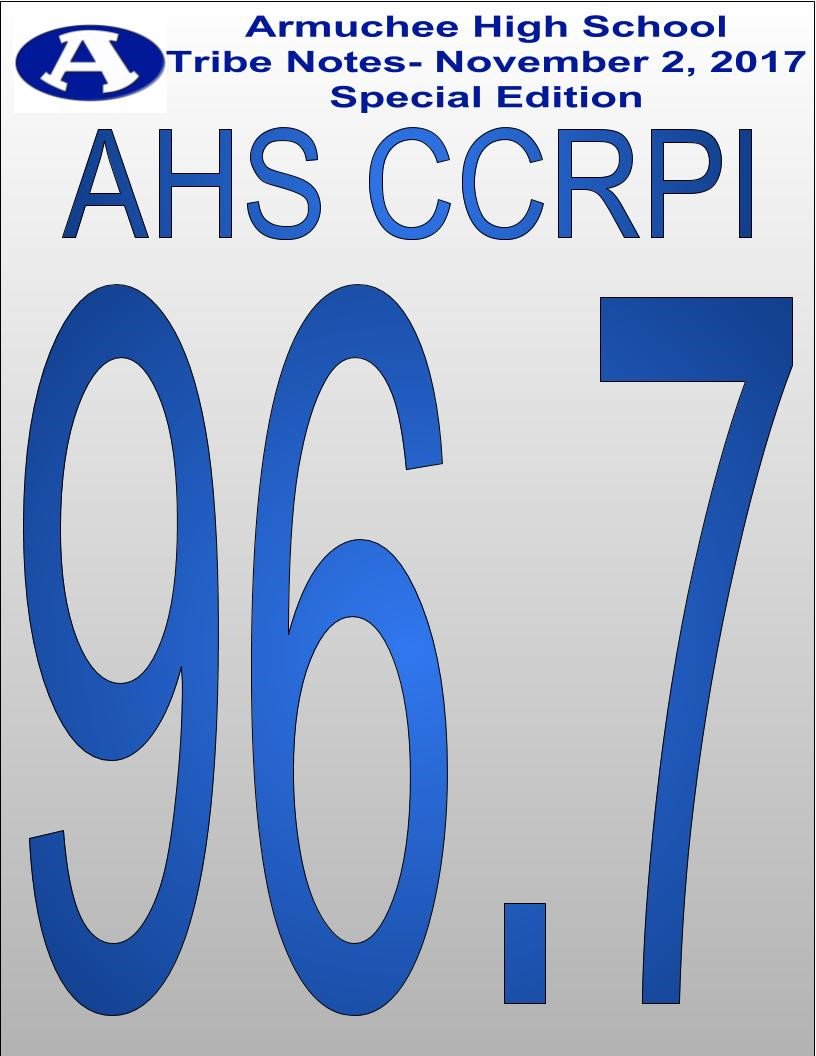 The Floyd Schools district score for all schools for 2017 is 77.7, which is 2.7 points above the state score of 75. This is the first time Floyd has exceeded the state score since CCRPI began in 2013.
The average Floyd elementary CCRPI score is 74.4. That is above the state average and a 4.9 point increase from the previous year. Five of seven elementary schools increased their score from the previous year, some with significant increases. Those elementary schools and points increased are: Garden Lakes Elementary, 14.3, Model Elementary, 10.5, Armuchee Elementary, 10.2, Alto Park, 9, and Pepperell Elementary, 7.8. Johnson Elementary had the highest and most consistent CCRPI score with a half point increase from 83.7 to 84.2.
The Floyd middle school average CCRPI scores increased by 7.8 points. Three of our middle schools saw significant increases over last year. Those middle schools are: Model Middle, 18.8 points, Armuchee Middle, 10 points, and Pepperell Middle, 7.6 points. Overall, the FCS middle school average CCRPI score is less than a point below the state average, but has increased 6.3 points from the previous year.
The high school average CCRPI score increased by 11.8 points which is 6.6 points higher than the state average. All four of the high schools saw substantial increases. Pepperell High increased by 15.7 points and jumped two letter grades from a D to a B. Model High increased by 12.3 points and Coosa High by 7.6 points. Armuchee High saw a 10.1 point increase over last year, rising from 86.6 to 96.7. Armuchee High's 2017 CCRPI score ranks first in the Northwest Georgia RESA District and the highest in FCS history.
"I am extremely pleased with our increase in the progress category at all levels," said Executive Director of Academics John Parker. "This represents student growth and shows a commitment on behalf of our teachers to push students to find new ways to maximize their own potential."
"CCRPI is a fair and comprehensive reporting system because it measures a student's growth as well as achievement," said Superintendent Dr. John Jackson. "We saw improvement in 13 out of the 15 schools that are held accountable for CCRPI scores in our district. That tells me that as a school system and as individual schools, we're moving in the right direction. We are healthy and growing!"
"We are incredibly proud of the kids, faculty, and staff at Armuchee High for all of their hard work," said Floyd County Board of Education Board Chairman and Armuchee and Glenwood Communities Representative Chip Hood. "This is a grand reflection of Dr. Burris's tenure and of the Board, school, and community coming together to create a positive culture in the area and accomplish this achievement. There is something special in the air in Armuchee."
More information on CCRPI and scores for all school districts in Georgia can be found on the Georgia Department of Education website here.