Media release: Rome-based Big Time Products, a global consumer goods manufacturer specializing in work gear, has been recognized twice this month by The Home Depot, as a result of category leadership and its timely response to recent weather crises. Big Time Products was named the Home Depot's Partner of the Year for Department 25H for 2017. This is one of the highest recognition from Home Depot that a supplier can receive, and places BTP among an elite class of Fortune 500 companies like Stanley/ Black & Decker and other notable industry leaders. This is an annual award that is given to only 10 suppliers out of thousands. "There is no singular individual to credit with this honor and our success as a company. We have an outstanding team of exceptional people who work hard and think innovatively. BTP has always valued each and every employee and strategic partner, so we are all sharing in the honor of this award as we look forward to continuing our efforts toward constant improvement," said Harry Pierce, CEO. The company also was recognized with the Hurricane Hero award for their support and efforts throughout the devastation caused by hurricanes Harvey and Irma. Big Time Products expedited product and sent employees to local stores in Texas and Florida to assist with the urgent demands brought by each natural disaster. BTP employees reacted with around-the-clock focus, ensuring that ours product were delivered to Home Depot locations where they were needed most. "We are incredibly proud to have been recognized by The Home Depot in both regards. We know that our success rides entirely on our team's commitment to collaboration and our relentless pursuit of excellence," said Rick Chambers, President. "These long-standing BTP values allow us to act quickly when our neighbors are in need of help, cementing our position as the industry leader."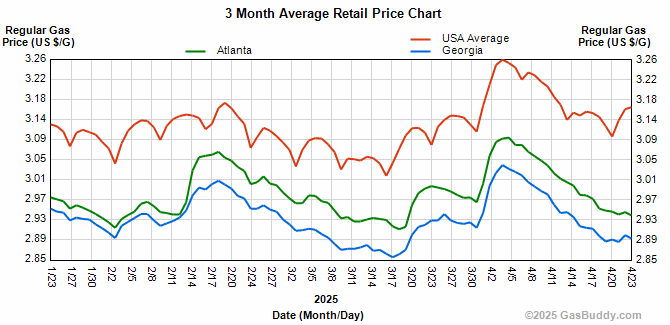 Checking regional gas prices, Aug. 31 vs. today per GeorgiaGasPrices.com: On Aug. 31, Hometown Headlines selected gas outlets in each local county to monitor during the expected run-up in prices associated with Hurricane Harvey. We will continue to use those stations as a "base report" until prices begin to decline. 
Floyd: $2.37 today vs. $2.07 on Aug. 31 at Kroger and Murphy USA. Peak: $2.56
Bartow: $2.44 today vs. $2.19 at Ingles on Aug. 31. Peak: $2.59.
Gordon: $2.33 today at Murphy; $2.36 at Kroger; both were $2.13  on Aug. 31. Peak was $2.69.
Polk: $2.38 at Murphy vs. $2.06 on Aug. 31. Peak: $2.59.
State. $2.51 this morning vs. $2.25 on Aug. 31.
 From AAA South:  
Georgia
gas prices have been on a steep slide for the last three weeks and should drift even lower this week. The state average declined for the 26th consecutive day on Sunday, falling a total of 24 cents during that time.  Georgia motorists are paying an average of $2.52 at the pump, a 10-cent discount from last week. Despite the slump at the pump, regular unleaded remains 23 cents more than this time last year, as prices remain inflated from supply and demand issues related to recent hurricanes. The largest weekly discounts during the past week were found in Albany (14 cents), Valdosta (13 cents), and Atlanta (11 cents).
The most expensive metro markets in the state are Athens ($2.56), Atlanta ($2.55), and Savannah ($2.52)
The least expensive metro markets in the state are Albany ($2.39), Augusta-Aiken ($2.43), and Valdosta ($2.45)
"The state average is falling by about a cent a day, as retail prices continue to recover from the effects of Hurricanes Irma and Harvey," said Mark Jenkins, spokesman, AAA – The Auto Club Group.  "Gas prices remain inflated by about 20-30 cents, and should decline another 5-10 cents this week. Hurricane Nate's impact on the Gulf Coast region should not affect local prices. However, if refineries and oil rigs have a difficult time resuming normal operations, and futures prices spike, then the local gas price plunge could stall out. This is something that will take a few days to play out."