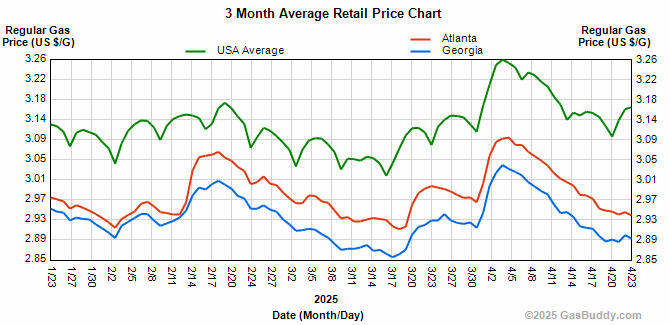 AAA reports Georgia gas prices averaged $2.66 on Sunday. The state average dropped 6 cents during the past week. Since peaking at $2.76 on September 12, the state average has declined 19 consecutive days for a total of 15 cents. Despite the recent downturn, motorists are spending an average of 31 cents more at the pump than this time last year.
The most expensive gas price averages in Georgia are in Atlanta ($2.66), Athens ($2.64), and Valdosta ($2.58)
The least expensive gas price averages in Georgia are in Augusta-Aiken ($2.51), Albany ($2.52), and Columbus ($2.54)
"No need to rush to the pump, gas prices should get even cheaper as the week progresses," said Mark Jenkins, spokesman, AAA-The Auto Club Group. "Prices are still inflated after hurricanes Irma and Harvey, but will keep falling as refinery operations, supplies, imports and exports return to normal. Pump prices have another 20 cents to fall before reaching equilibrium. Expect another 5-10 cent drop this week."
Checking regional gas prices, Aug. 31 vs. today per GeorgiaGasPrices.com: On Aug. 31, Hometown Headlines selected gas outlets in each local county to monitor during the expected run-up in prices associated with Hurricane Harvey. We will continue to use those stations as a "base report" until prices begin to decline. 
Floyd: $2.51 today vs. $2.07 on Aug. 31 at Kroger at $2.52 (will get Murphy USA later this morning). Peak: $2.56
Bartow: $2.56 today vs. $2.19 at Ingles on Aug. 31. Peak: $2.59.
Gordon: $2.51 today at Kroger; no Murphy USA report; both were $2.13  on Aug. 31. Peak was $2.69.
Polk: $2.56 at Kroger vs. $2.06 on Aug. 31. No update on Murphy USA. Peak: $2.59.
State. $2.60 this morning vs. $2.25 on Aug. 31.
CURRENT AND PAST PRICE AVERAGES
(Regular Unleaded Gasoline)
Sunday
Saturday
Week Ago
Month Ago
One Year Ago
Highest Price on Record
National
$2.556
$2.561
$2.576
$2.519
$2.222
$4.114 (7/17/2008)
Florida
$2.615
$2.624
$2.670
$2.497
$2.146
$4.079 (7/17/2008)
Georgia
$2.617
$2.626
$2.671
$2.508
$2.312
$4.164 (9/15/2008)
Tennessee
$2.466
$2.471
$2.515
$2.353
$2.139
$4.118 (9/15/2008)

Click here

 to view current gasoline price averages